Your Guide to Samsung Split Mini Ductless Units
Having proper heating and cooling in your home is essential for comfort. Sometimes when moving or adding an addition to your house it may be challenging to expand your current HVAC system to reach that additional space. Samsung's split mini ductless HVAC units are great options for adding additional heating and cooling to any space that may need it. Ductless mini-split HVAC systems are most commonly seen in apartments or multi-family homes where living spaces are being used as small apartments. They are also great options for additional heating and cooling in any space where you want more control over your desired temperature. Samsung's split mini ductless HVAC systems, like traditional central systems, come with two components: an outdoor compressor and an indoor air-handling unit. These units are great for precise temperature control and are usually cheaper to install. Below will discuss the pros and cons of a few different models of Samsung's split mini ductless HVAC units.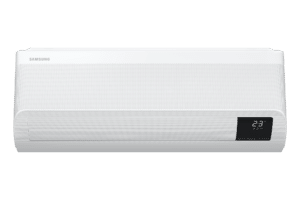 Samsung Windfree 2.0:
This Samsung split-ductless HVAC unit provides its users with a controlled cool temperature indoor climate without the discomfort of direct cold airflow. These cold drafts are avoided due to the Winfree delivering air through micro-holes on the systems fascia panel when the louver is closed. This produces a gentle airflow.
Pros of Samsung Wind free 2.0:
Complete Control:
The Samsung windfree 2.0 comes equipped with built-in wifi, which allows for voice control as well as access to control the unit from anywhere with accessible internet. This can be controlled through Samsung's SmartThings application. You remotely adjust, and regulate the temperature, while accessing daily performance and energy use. This also allows the user to know when repairs are needed. 
Eliminates Cold Drafts:
Samsung Windfree system is able to eliminate cold drafts while maintaining the desired temperature. This is done through the unit's micro-holes that deliver air through the

fascia panel while the louver is closed. This creates the desired gentle air flow. The windfree 2.0 model covers more surface area than older models, contributing it its more precise temperature control. 
Auto Mode:
Samsung Windfree system has an Auto mode that monitors the indoor temperature, outdoor temperature, your desired set temperature, as well as learning your desired temperature patterns within your home to help ensure comfort.
Cons of Samsung Windfree 2.0:
Price: 
Although the Samsung Windfree 2.0 may be on the pricier side, especially as the size of the room you are cooling increases, it has a lot of features other cooling systems may not have. The Samsung windfree is also very energy efficient and will contribute to reducing your overall energy consumption.
Coverage:
As this unit is only made for single room use, this system isn't a great option if you are looking for something to heat and cool your entire home. 

Samsung Quantum 2.0:
The Samsung quantum 2.0 delivers great efficiency to homeowners. This unit also comes with built-in wifi that allows users to remotely regulate temperature, adjust settings, and be notified of system performance.
Pros of the Samsung Quantum 2.0:
Cheap Installation:
The Samsung Quantum 2.0 is typically cheaper to install than other RAC units. The unit's compressor and air handler are packaged in a single outdoor unit. As this system is a single room system, installation costs will be less as the installation time will be shorter. 
Geofencing:
This technology allows the system to recognize when your smartphone, or device that controls the unit comes in and out of range that you had customized on the map. This means the system can turn itself off or adjust temperatures while you're away, and then adjust back to desired settings when you are in range again.
Cons of the Samsung Quantum 2.0:
Noise Levels:
Due to the systems compressor and air handler, the unit may be a bit noisy if you are planning on using it in a bedroom. These single-room units may be more effective in living areas as the noise levels might be too loud inside a bedroom.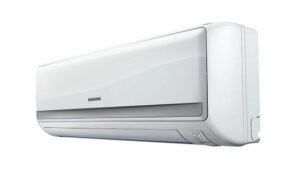 Samsung Max:
Samsung Max mini-split unit offers precise temperature control of heating and cooling. The smart inventor compressor offers various ranges of heating and cooling levels.
Pros of Samsung Max:
Advanced Filtration:
This unit comes equipped with a full high-density filter. This filer creates improved filtration removing dust and small particles from the air.
Energy Efficiency:
The Samsung Max has different settings that allow for reducing your energy consumption. This unit has a single-user mode that can be turned on when you are home alone.
High Performance:
This unit has a digital inverter compressor variable speed that allows for precise control of speed, creating the perfect desired temperature. This feature also happens without the unit turning on and off to increase efficiency.
Cons of Samsung Max:
Noise Levels:
This unit may be too loud for a bedroom if you are more comfortable in quieter spaces. This unit may be a better option in another living space in your house.
Price:
This mini-split unit is one of the more expensive units, also coming with higher installation costs. 
Samsungs mini-split ductless HVAC units are great options for additional heating and cooling in smaller rooms. These systems will be best in apartments, multi-family homes, or single office spaces. Mini-split ductless HVAC units are great for desired temperature control, keeping their uses consistently comfortable. 
To have a Samsung mini-split ductless HVAC unit installed now, get a quote from Highwood Mechanical.
[gravityform id="1" title="true" description="true"]