You'll enjoy all the benefits of heating with oil in addition to saving money with AFUEs of 87%. Buderus brings you an ingenious combination: a modern, environmentally-friendly oil boiler plus the ultra-efficiency of cutting-edge technology.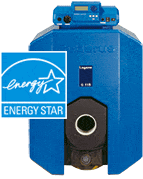 Designed to operate at any return water temperature

Full swing burner door for easy and quick, thorough cleaning

No refractory parts for reduced maintenance

Boiler fully serviced and cleaned from the front

Cast iron breaching for long life

Thermostream design increases efficiency and system reliability

High efficiency through full three-pass boiler design
Here, at HMC, we believe that everyone should be able to create the perfect indoor environment in their homes, commercial property, and institutions. That is why with the help of our good friends at Buderus, we are able to provide buildings located in the surrounding areas of Fairfield and New Haven Counties, CT, the best HVAC systems our partners have to offer.
Highwood Mechanical contractors serving Fairfield, New Haven, Hamden, Hartford and other towns in CT have been using and servicing Burnham Boilers since 1994!