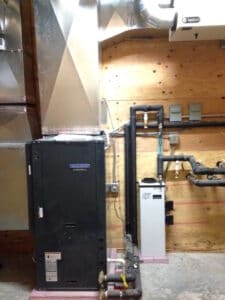 Not entirely sure if you need to replace your AC, boiler or furnace? Read below and then decide for yourself.
Your heat pump or air conditioner is more than 10 years old. Installed correctly, a newer high-efficiency unit can save up to 20 percent on heating and cooling costs.

Your furnace or boiler is more than 15 years old. Replacing an old furnace or boiler will only help you reduce your heating costs because the latest units are much more energy efficient.

Your equipment needs frequent repairs and your energy bills are going up.Your cooling or heating equipment my have become less efficient and hence the need for frequent repairs. This is one of the first signs that you should be replacing your existing units.

Some rooms in your home are too hot or too cold. Improper equipment operation, duct problems or inadequate insulation could be the cause. We not only replace the main units but also analyze very closely the venting system and can identify potential leaks or problems in your vent insulation.

Your heating or cooling system is very noisy. This too is one of the first signs of problems to come. However, if your unit is not too old, we can also investigate and fix the root cause for the noise inconvenience.